The Red Mountain Trip (continue on page 2)

December 14, 2008
Many of the trips I've been on while hunting rare and beautiful high-grade turquoise have been so adventure-filled that I thought it might be time to start a 'Turquoise Blog' to share with other collectors on how this wonderful and rare stone has been tracked down. Sometimes it is pure luck or good fortune and other times it's just been detective work.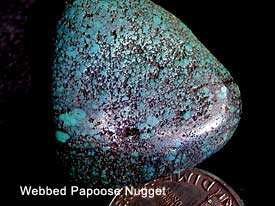 I returned home from my latest trip last night (Dec. 13, 2008) with some very rare Red Mountain high-grade turquoise that was originally mined in 1974 and that I was able to buy directly from the mine owner at that time, Don Potts. How I found Don and then getting to him turned out to be quite an adventure.

It all started a few days earlier when I received a phone call from the new owner of the Blue Diamond mine. At one time the Blue Diamond was a large producer of turquoise and the current owner of the mine had spent the summer working the old tailings piles and had some cabs for sale. When he called he was on his way from Fallon, Nevada to Nevada City, California so we decide to meet at the IN and OUT Burger along Hwy 80 in Auburn at noon. It was about a 45-minute drive for me, which made it pretty easy as lately I've been used to six hours drives looking for good material to resell. Jim, the new Blue Diamond owner, was there when I arrived and he had a friend with him named Tony.
Tony turned out to be the old owner of the Papoose mine in Nevada. We had lunch together, looked at stone and talked about turquoise and old mines. During one of the conversations about the Red Mountain mine Tony had mentioned that one of the early mine owners, Don Potts, was still alive and living in Nevada. After getting a little more information I had the name of the town where he lived and was starting to get excited. Although many times when I meet one of the older mine owners they no longer have any of their turquoise left, every so often they will still have a few special pieces.

I'm beginning to get a little ahead of myself so let me go back to my meeting at the IN and OUT Burger. After looking over all of the Blue Diamond cabs, I really didn't see anything that I thought I could use, but then Tony brought out a small blue webbed Papoose nugget to show me. The Papoose mine was never known for any blue webbed material and Tony mentioned that he had only ever found just of couple of these webbed beauties. I didn't want this nugget to get away and started negotiating to get it out of his pocket and into mine. After some back and forth dealing and then an exchange of money, I was driving home with the webbed nugget in hand.