Turquoise occurs in relatively few areas in the world. The Southwestern United States, Persia (Iran) and China have been the most active producers. Turquoise mining has never been marked by boom towns and mining camps. It has usually been carried out on a small scale by individual miners or families and sometimes as a side operation of copper mining. Below are listed some of the more famous turquoise mines though only a few are still active today. To read about others, especially many of the older small producing mines please check our book page.

BISBEE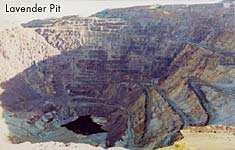 Bisbee turquoise it is a by-product of a large copper mine located near Bisbee, Arizona owned by Phelps Dodge Mining Company. With some of the finest turquoise coming from the section of the copper mine known as the "Lavender Pit," where for years copper miners would bring out fine turquoise in their lunch boxes. In March of 1972 a miner named Bob Matthews was given the only lease ever granted for rights to mine Bisbee turquoise. He was said to have recovered more than 2,000 pounds of good to excellent turquoise by 1974. The Bisbee is considered to be the first large open-pit copper mine in Arizona. As the pit was extended quantities of fine turquoise were recovered. The turquoise occurred in stringers up to a few inches wide along with small nugget-like masses in granite and quartzite.


Bisbee turquoise is as good as turquoise gets. It is a hard material with shades from medium to an intense blue color and enhanced by a red, brown or black, sometimes called "smoky," matrix. Green shades have also been found. Bisbee turquoise was marketed very early in the Southwest and that along with its quality help make it one of the more famous varieties of American turquoise. Sadly, Bisbee turquoise is no longer being produced. With its extreme blue color and beauty, hardness and now rarity Bisbee has become one of the most valued turquoise in the world today.

Bisbee's story is one of the great mining stories of America. On December 14, 1877 three prospectors, Hugh Jones, Joseph Halcro and Harry McCoy, after discovering a copper stained outcropping of rocks filed a claim on the first copper mine in the area. By 1879 one hundred claims were filed and a mining camp had begun informally known as Mule Gulch. The original, and largest, claim at that time was known as the Copper Queen mine. Investments were needed and its search for investors lead to Judge Dewitt Bisbee.


Thus in honor of the camp's major mine financier, Judge Bisbee, the blossoming new town was named Bisbee, With the camp's major mine now financed and the mining camp's growth into a new town, Bisbee was ready to become one of the most important mining cities in America. In 1881 Phelps, Dodge, and Co. purchased the Atlanta, next to the Copper Queen, and in August 1885 a merger had brought the two mines together. The railroad had come to Bisbee in 1889 and by the mid to late 1890's Phelps, Dodge, and Co. had now owned 90% of the Copper Queen Consolidated Mining Co. and had purchased most of the other mining properties in the area. Copper was being produced in Bisbee for decades. In the early 1950's work began on Sacramento Hill, a large low-grade copper ore pile. Harrison Lavender, the manager of the Copper Queen, had determined an open pit mine would increase ore yield. On December 14, 1974, twenty years later, mining had stopped and the thousand foot deep Lavender Pit covering 300 acres had replaced the hill. The Lavender Pit had become a tourist destination with rim viewing platforms and guided tours.

Today in and around Bisbee and under the Mule Mountains are over 1500 miles of tunnels and shafts along with the now famous Lavender Pit.