GODBER-BURNHAM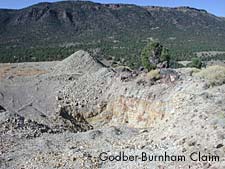 The Godber-Burnham mine is located northeast of Austin, Nevada on Dry Creek. In 1932 Bob Burton and Joe Potts discovered the mine and first claimed it as the "Last Chance." Later, also being known as the "Blue Stone" and "Homesite" and at one time the "Dry Creek" due to its location along Dry Creek which runs through the Damele horse ranch and then in front of the Godber claim. The mine was later sold to Frank Burnham who it was reported took out more than $100,000 worth of turquoise. In 1934 Burnham sold the mine to Walter Godber.


The turquoise ranges from medium to dark blue sometimes with a beautiful spider webbing. It has also been know for a very dark or black mottling forming blotches and veins running through the stone. Godber-Burnham has always been considered a very high quality turquoise. Oscar Branson in his book, "Turquoise" has called Godber "so hard and compact" and "some of the finest turquoise in Nevada."

back to top

HACHITA
Hachita turquoise is from a group of mines near Old Hachita, Grant County, New Mexico. They include the Azure, Cameo, Galilee, and Aztec claims. The name "Hachita" comes from the Spanish term for "Little Hatchet". The small town itself was located in the foothills of the Little Hatchet Mountains in the Hachita Valley of New Mexico. The turquoise deposits lie in a location known as Turquoise Mountain about 6 mile west of the town.

Mined intensely in prehistoric times, settlers first came to the area when stories told by Indians mentioned turquoise deposits found in the hills of the Little Hatchet Mountains. Prospectors began working deposits around 1880's and not only found the turquoise, but silver, copper, and gold as well. Many of the turquoise tunnels found were so ancient and carefully refilled by the Indians that they were only found by later mining. Some were said to have become so hard that the material had to be blasted loose.

These were hard mines to work with the nearest settlement of any size a few hundred miles away and the harsh furnace like conditions of the desert. Much of the first turquoise found was a hard fine pure-blue color. Today the Hachita turquoise seen in the market place is predominantly green with a light to dark brown matrix. Sometimes forming a beautiful spider webbing.